After the election, mainstream Democratic Party leaders, progressive thinkers and writers, and organizers of the movement left entered a fierce debate, centered on the question of whether the American left needs to abandon "identity politics". 

One side says that in recent years the left has gone too far in focusing on the social interests of people of color, queer people, etc. while ignoring economic issues, which left blue-collar white voters feeling alienated.  They point out the Trump backlash was particularly strong among working-class whites in the Rust Belt who have suffered serious economic pain and feel like the left has abandoned and forgotten about them.  They say we've lost sight of standing for universal values and grown comfortable with a kind of corporate multiculturalism that fails to challenge Wall Street's influence.  They say the solution is returning to a message focused on economic inequality, a Bernie Sanders style populism that can appeal to a broader audience outside the diverse coastal urban bubbles.
Another side says that Trump won because of his blatant appeals to racial resentment among white voters, not any economic message he had that better appealed to the working-class.  They say that we shouldn't rush to defend and feel sympathy for a rising white supremacist movement because of "economic anxiety" of whites who are still better off economically than people of color.  They argue we need to fight racism directly rather than ignoring it and hoping better economic conditions will make people not racist.
There's truth within both arguments.  We do need to finally toss out the shambling zombie of neoliberalism and make the left fight hard for working people again.  We also cannot excuse or compromise an inch to white supremacy and misogyny.  But in the end it's a pointless question of whether we should abandon "identity politics".  All politics is identity politics.  Politics aimed at better representing the interests of the rural white working-class is in fact the definition of identity politics.
The bigger issue is that right now we have two stories, two rising narratives about what the core problems in our society are, who is causing them, who our movement is, and what alternative vision we stand for.
Both stories are kind of weirdly coexisting.  Different messages are resonating with different bases, building strong but divergent movements. We need a synthesis of these two stories, or the right's more unified story will be more compelling to the American public than our divided one.
The Zucotti Story and the Ferguson Story.
The Zucotti Story says our political and economic systems have become rigged, increasingly tilting in favor of the powerful and wealthy, leading to mass economic suffering and environmental destruction while big corporations and the richest 1% profit.  We need to take back our democracy and return it to the hands of the people by getting big money out of politics, reigning in Wall Street, and directly fighting economic inequality.  We the 99% can only beat the richest 1% and their lobbyists and Super PACs if we stand up now and start a political revolution using our people power as the majority.
The Zucotti Story explodes onto the scene with the 2011 Occupy Wall Street encampments at Zucotti Park in New York, runs through the 2014 People's Climate March and erupts again in the 2016 Bernie Sanders campaign.  It was the protests against Keystone XL, the hate of Monsanto, the move to amend the constitution to overturn Citizens United.  It resonates most strongly among young white progressives, and has become a central narrative in movements fighting economic inequality, climate change, money in politics, the corporate food system, and student tuition/debt.  It has some intellectual roots in the anti-globalization and anti-corporate protests that emerged in the late 90's.  Its greatest public storytellers include people like Bernie Sanders, Elizabeth Warren, Robert Reich, Bill McKibben, etc.  It has a willingness to engage in electoral politics, because its theory of change sees the solution as using the people's democratic majority power.  However, it is highly critical of the way modern democracy is influenced by corporate money and is deeply suspicious of being co-opted and used by untrustworthy political actors.
The Ferguson Story says that we are slowly unraveling the legacies of white supremacy and patriarchy that have continued to curl around the roots of all of our institutions since our country's origins of colonialism, genocide, and slavery.  These deeply-rooted forms of oppression continue to live on because those with privilege are willing and able to ignore them.  We need to reveal structural oppression in order to dismantle it, like exposing how our criminal justice system carries on the legacy of slavery by continuing to imprison and execute black people at a mass scale.  People of color, women and queer people can only achieve real liberation, can only truly dismantle these systems of oppression by showing this country itself in the mirror and forcing it to reconcile with its injustices.
The Ferguson Story emerges out of the critical race and gender theory building for decades among left student activists and social justice organizers, particularly within queer, feminist, and racial justice circles, which only recently has become mainstreamed off college campuses and nonprofit offices and into popular culture and social media.  Its most prominent face is the Black Lives Matter movement that exploded into public view in Ferguson, Missouri, but it also runs through the Dreamer/immigrants' rights movement, the modern feminist movement including the raging battles around sexual consent and reproductive justice, and the queer and transgender rights movements.  Although it has roots in the counterculture of the 1960's, it is wary of the failings of that era's movements.  It avoids individual charismatic leaders (seeing organizations collapse after the assassinations of leaders like MLK and Malcolm X).  It is opposed to colorblind universalism, because it holds that without acknowledging the legacies of historical oppression that leave behind huge power imbalances today, we will never achieve justice.  It sees the path to victory as less tied to electoral politics or short-term incremental policy victories and more possible through social and cultural change, often engaging prominent figures to use their pop culture megaphone to command public attention, from Beyonce to Colin Kaepernick to Jesse Williams, and challenges individuals to build consciousness of white supremacy and patriarchy at a person-to-person level.  From police killings to immigrant deportations to sexual assaults, it raises the stories of people whose suffering would be otherwise ignored to make the invisible visible, exposing the bleeding edge of oppressive systems.
I could fit nearly every post scrolling across my feed from my lefty activist friends into one of these two stories.
But the Ferguson Story and the Zucotti Story are on a collision course.  They have different heroes and different villains.  They even run through time in different directions.
If the key to dismantling systemic oppression really is to make it impossible for the privileged to ignore their own privilege and others' oppression, then how can we simultaneously declare that we are all in the same 99 Percent?  If the Wall Street financial elite really are the holders of power in this system, causing horrific destruction by putting corporate profits over people and the planet, how can we truly disrupt this system with cultural change that doesn't directly challenge their power?  These aren't easy questions to reconcile.
In my opinion, the Zucotti Story identifies a better villain.  The financial and corporate elite is a more politically strategic opponent than millions of privileged straight white males.  But it's also a truer villain in reality.  Who really drives systemic inequalities and oppressions, who really profits from this system?  Sure, the white guy on a factory assembly line in Michigan may be better off than a Latina woman cleaning hotel rooms in Nevada.  But if someone's getting truly rich off this system, it's definitely not the factory worker.  And whoever holds the real power to build and maintain that system isn't him either.  The racism and sexism he grew up around makes it easy for corporate billionaires to convince him that the Latina housekeeper doesn't deserve higher wages for her work and shouldn't have access to healthcare or food or housing or education assistance for her family.  And tragically, that same garbage they've convinced him of also keeps his own wife working for $2.13 an hour at the diner and keeps his own kids from getting scholarship grants to go to college.  But he's at worst a storm trooper in this story, not Darth Vader, and certainly not the Emperor.
On the other hand, I think the Ferguson Story lays out a better narrative arc.  The problem with "take back our democracy" is the same as "Make America Great Again".  It begs the question: back to what?  For the millions of people of color, women and queer people in America, there was no golden age that we would ever want to return to.  Most tellers of the Zucotti story, from Robert Reich to Bernie Sanders, remember the New Deal era as that better time, making small print footnotes and caveats that there was unfortunately too much discrimination back then.  But the hard truth is that the broadly egalitarian prosperity of that time for white people was actually built on the backs of people of color, like the government massively subsidizing the creation of the suburbs and helping white families buy homes there, which was inextricably linked to redlining and white flight devastating urban communities of color.  Our story should not weave a mythical past because it keeps us from confronting the harsh realities of that past and understanding the much harder task of building a better future through deeper systemic change.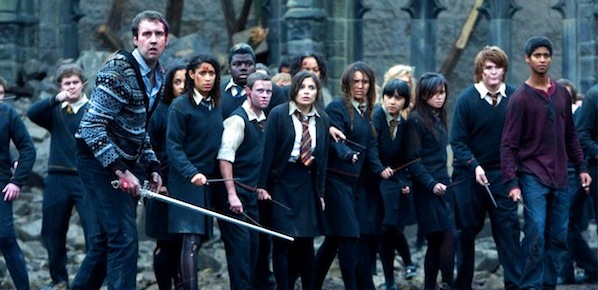 Perhaps the hardest question is who are the heroes of our story?  Are we the coalition of the oppressed or are we the 99%?  The 99% concept, while seemingly unifying at a surface level, is troubling.  If we are unable to distinguish between the challenges facing a black formerly incarcerated unemployed father in Atlanta and a young white tech worker in San Francisco, this will inevitably lead to huge failures in addressing injustices in our society.  Instead there is greater truth, but also something more deeply powerful, in seeing our heroes as a motley crew of underdog misfit rebels.  In the oppression frame, we can acknowledge our differences, but embrace each other.
But the problem with the oppressed as the heroes is that our country has always refused to accept the existence of economic class oppression.  That's the missing piece that keeps our two stories from converging.  
From Rust Belt guys laid off from disappearing jobs in the factories and mines to Millenials at shit jobs in retail and food service struggling with exploding debt and housing costs, white Americans rarely see themselves as part of an oppressed working class.
Throughout the history of this country, the existence of whiteness has been deliberately constructed, while the existence of class has been utterly denied.  The white working-class has been told over and over for centuries that they're not the poor, they're the default people, the average, real Americans, the noble middle-class.  They're not down there along with the wretched of the earth, the dark huddled masses.
This is why many white folks need to hear a story about the 99% in order to fight for economic justice.  If we're all in the 99%, no one has to admit we're broke, we're just not as rich as those Wall Street guys.
The United States has historically lacked the consciousness about class issues seen in most other countries because our country's most dominant narrative, our core defining ethos, is being the land of opportunity, away from Old Europe, the exceptional place where everyone can make it.  The American Dream.  It's the story we're told over and over again in so many ways, even though time and time again it's been proven statistically untrue.
This is the big lie that creates a huge barrier to a synthesis between the Zucotti Story and the Ferguson Story.  The biggest lies are always the hardest to expose.  In the end, the left will probably never win in this country unless we can get past this deep mental block that prevents millions of people from seeing how our economic system is screwing them.
As John Steinbeck once said, Americans don't see themselves as poor, they see themselves as temporarily embarrassed millionaires.  In America, where supposedly anyone can make it if they're smart and work hard, being broke means you must be lazy and stupid.  If you're poor and white, there is no consciousness of your oppression to shield you from the shame of being poor in America.  Acknowledging your social class is in fact deeply painful, to see your place at the bottom of your own nation's social myth.  You may go through all sorts of mental gymnastics to assert your status as higher than some other group of people, which makes you vulnerable to demagogues who cast the blame on scapegoats.  This is how old plantation owners convinced the vast majority of whites who didn't own slaves that they should support maintaining the slavery system because it kept poor white people one rung higher on the ladder than poor black people.
Shame is a powerful, paralyzing emotion.  It makes us avoid and hide.  In politics just as in our personal lives, if we can't move past shame we can never move forward.
When people of color, women, queer people, talk about their status in society they often feel some internalized shame, but they are also able to express pride, a sense of resilience and rebelliousness built into a collective history.  Working-class white people in America don't feel that same way when they talk about class.  You see it a little bit in the "redneck" pride in country music, blue collar comedy, etc.  But it's often more expressing rural white cultural pride than pride in being working-class itself.
Even people in the labor movement in this country are afraid to talk about class.  Half the time they can't even say the words "working class", and say unions represent the voice of the "middle class" instead.  This is a legacy of Cold War Era McCarthyism and red-baiting, where in order to survive, organized labor had to avoid anything that might slap the dangerous communist label on them.
But the Cold War is over.  And we need to start talking about class with white people.  If we don't, all working-class white people hear from the left is that they had this great privileged life and somehow ended up on the bottom anyway.  That's the kind of thing that makes people go "Hey fuck you man, you don't know anything about me or how hard I've had it, nobody cares or tries to help out people like me, I had to do everything on my own, unlike those people getting affirmative action and living off welfare and cheating the immigration system."  Talking about race without talking about class actually creates a huge mental block keeping working-class white people from acknowledging racism.
The left doesn't need to stop talking about identity politics.  The left needs to understand that class is one of the most important parts of people's identity.
As far as we still have to go, we've made undeniable social progress on race and gender in just the last 10 years.  But where is our progress on class?  Our movements have failed to deliver meaningful change for working-class white people.  We have buried them.  And in 2016 they refused to be buried.
To fail to talk about class is to avoid a problem because it seems too hard and too scary.  It is to try to ignore the estranged old friend who we stopped talking to after a bitter argument, because we feel ashamed and don't know how to restart the conversation.
This political identity of the white working-class, the largest in the country, will ultimately need to find a place to belong, either among the left or the right.  If we cannot create a place for them to belong in our movement, they will continue to be turned into our enemy's greatest weapon against us.  If we don't lay out a genuinely transformative progressive economic agenda they will become the political base for white nationalism.
And if the movement left fails to open up the conversation about class, the establishment liberals will make their play to win the next election—they will try to win over upper-class white voters by diving deeper into neoliberalism, showing economically conservative but socially liberal voters that if they're embarrassed by Trump's crude antics, they can find a home for their politics in the Democratic Party.
To beat the two-headed monster of hate and greed, we can't turn our backs to one to fight another.  
And we will need a compelling, powerful, unifying story to defeat the one we're up against.
The Make America Great Again story spread like wildfire and was ultimately the most successful message in 2016 because it aligned so easily atop the old right narrative, but changed a few key details to adapt to the new viral era, the new altered political state.
The Old Right story, the Atlas Shrugged story, said that liberal elites who really just want more big government power and ultimately socialism/communism are conspiring through an ever-growing web of government taxes and programs and regulations to take wealth away from hardworking, mainly white, "makers" like small business owners, and give it to lazy, mainly black and brown, "takers" like welfare recipients, eroding our hardworking American values and lulling people into a cultural trap of dependence, growing ever weaker and more sheeplike.  The heroes who can stop them are the business elite who forsake their supposed "social obligations" to others to reveal the truth of how much the world needs them as successful individuals.
The New Right story, the Make America Great Again story, says that liberal elites who want big globalist governments are conspiring to advance an ever-growing web of politically correct multiculturalism that erodes our tough American values, keeping us from confronting our enemies and standing up for the physical safety and economic security of (white) "real Americans" who are under threat from Mexican illegal immigrants and Chinese factory slaves, Muslim terrorists and Black rioters, who we can't even call our enemies because we've been so brainwashed by the liberal media.  The heroes who can stop them are the Regular Joe's who have the courage to cut the PC crap and say what's really happening and stand up for ourselves as a country.
Both stories have roughly the same villains, the liberal elite with their dangerous ideas and the ignorant dark masses who follow them.  They have roughly the same narrative arcs, of things falling apart over time as they break down our culture into weakness, ultimately leading to the fall of America.  They have the same solution, of telling the hard truth that no one wants to hear.  The New Right mainly just switched the heroes from the successful business-class elite to the struggling plain-spoken regular working guy.  Trump's narrative resonated less with the traditional gatekeepers like elected officials, media commentators, donors etc. who candidates once needed to win.  But it resonated more with the actual base of ordinary people who virally spread his message at the grassroots level and on social media.
The right-wing narrative just gave itself a little tune up for a viral era and immediately found massive success.  Meanwhile, the left wing has lacked any kind of cohesive narrative for decades.  That left story is finally beginning to emerge into the public consciousness, but in two distinct parts that are struggling to be reconciled with one another.
Divided, they are defeating us, by caricaturing us as Social Justice Warriors and Bernie Bros, minorities obsessed with meaningless microaggressions, and privileged white guys who only care about free college and weed, and making us resent each other.
But there is one place where I think we're beginning to see a synthesis of our two stories.  It's the Standing Rock Story.  Over the past few months, we've seen followers of both the Zucotti Story and the Ferguson Story turn their eyes to North Dakota, to perhaps the most deeply oppressed people since the beginning of this country, indigenous people who are courageously fighting the most powerful wealthy corporate interests, the oil industry and their Wall Street financiers, and somehow seem to be winning.
This is the first story I've seen that has really moved people in both of our left camps.  It's the story that says that reckless corporations driven by Wall Street greed are putting their profits before the lives of people and the planet we all depend on.  And that it will be the places like Standing Rock and Flint that are hit first and worst, as the corporate machine takes away our humanity.  It will be the people who have been neglected by America, the people whose lives and humanity have been valued the least.  It will be these places that first see their water, air and soil poisoned, or their people struggling to survive without jobs or economic opportunities, or their democratic voice and human rights crushed for the sake of profit.  But in the end, we have a shared fate, and people from all walks of life will need to join that struggle in powerful stunning acts of solidarity to defend our common humanity.
I've held a quiet fear throughout the Bernie Sanders campaign.  With every breathlessly excited conversation with friends who were feeling the Bern, the hope swelling in me was pulled back by that nagging fear. I was afraid of the growing hero worship of Bernie.  I worried that when faced with disappointment, with loss and uncertainty and doubt, that a whole generation of young people would become disempowered, disillusioned, disheartened and disengaged.  I was terrified that our generation would learn all the wrong lessons, learn that we were powerless in a dark and uncaring world.  But that couldn't be further from the truth.  This generation is so powerful we've changed the political landscape in this country beyond what anyone could have imagined.  But when we have so much love for our leaders, sometimes we come to forget that we are leaders too.
Bernie Sanders is Gandalf.  He's Obi Wan Kenobi.  He's Dumbledore.  He's an old man who's seen some things, with the wisdom and integrity to guide a younger generation through a time of great moral crisis.  He's a grizzled sage with the courage to speak the truth to define right from wrong in the face of a rising darkness.
But in these stories, the wise old man isn't the one who saves the world.  Instead the world depends on the young heroes who only truly step into leadership once their mentor is lost. 
Before then, they cling to the wise old man, hoping he can fight the war, hoping he can fix things.  The elder knows this is not possible, and warns the heroes that he can't do it for them.  But they refuse to hear it.  They're afraid they don't have what it takes, that the mounting forces of greed and hatred are too powerful. It's only when the wise elder is gone (or at least seems to be) that the young heroes are faced with a choice.  They can give up and accept the world as it will be without them, accept the world happening to them.  Or they can happen to the world—they can alter the outcome of their own destiny and the destiny of everyone they love and the place they call home.
We know this story.  We've grown up with it our entire lives.  But somewhere along the way we forgot it.  We forgot that we were always going to face this moment.  The moment where the young feel lost, where their guide, their voice of wisdom who always seemed to know the right thing to say and do, is suddenly struck down, leaving us aimless and filled with doubt and fear.
Bernie Sanders was never going to be able to fight our battles for us.  He told us this in every speech.  He told us that the system we had to change was far more vast and complex than just who sits in the Oval Office of the White House.  That he couldn't change it alone, that it would take all of us.
The Bernie Sanders campaign has moved so many people, from those getting involved for the first time in their lives to lifelong activists who felt this time might be different.  So many people are now experiencing a crushing wave of disillusionment wash over them, and it breaks my heart because we deserve better.  We believe in a simple idea: that we deserve a political and economic system that actually works for the people, not the wealthy and powerful.  And now we're aware more than ever how far away that is.
But that day of disillusionment was always coming, sooner or later. 
For many it came sooner, as we saw the Bernie campaign struggle to overcome the Clintons' longer-established relationships built in communities of color, leading to steep losses among older Black Democrats in the South and older Latino Democrats in the Southwest, losing the national popular vote and leaving the campaign's only hope of winning a half-cocked plan to overturn the vote of the people by somehow gaining the support of the superdelegates who had been stacked against Bernie from the beginning.
In another world, the disappointment might have come later.  If Bernie won the presidency, like the dog that finally catches the car, we would likely have been left wondering what to do next.  With no real groundwork laid or resources invested into electing allies to Congress, most of his agenda would have quickly ground to a halt.
Bernie knew all along that even if we elected him, he wouldn't be able to solve everything through the sheer power of his words and integrity and justice.  He told us over and over again that to end the concentration of wealth and power in the hands of the few it would take a revolutionary shift in our political landscape, the kind of tectonic shift that changes everything.  That kind of change takes organizing people in the streets to create political pressure that can't be ignored, getting the right people elected in every community across the country, and building grassroots organizations that can sustain that vision and hold them accountable.
If we are disillusioned now it's because we were suffering from too many illusions to begin with.  It was the inevitable result of this insane hero worship of Bernie that he never expected of us and never asked us for.
A movement is so much more than one person, one candidate. We often don't realize that because we were taught bad history.  We learned in school about social movements by reading about individual charismatic leaders like Martin Luther King Jr. or Cesar Chavez, but that's not how it actually happens.  It happens because millions of everyday people like you and me do little things in every corner of the country, and together our actions swell into an unstoppable tide.
Bernie Sanders didn't start this movement and his defeat (yes–we can say it–defeat) sure as hell won't end it. 
There are people in this world who are just out there being themselves and somehow one day they end up in the right place at the right time, when the world needs someone like them.  That's Bernie.  He's been fighting greed and bigotry his whole life from his corner of the world in Vermont, and decided to run a campaign for president if only just to show that there was an alternative, to push Hillary Clinton, to force a real debate on inequality.  No one predicted, including him, that our generation would put that campaign in the history books.
The media barely covered it as a joke, DC insiders rolled their eyes.  Yet suddenly thousands of young people were showing up to his rallies, he was raising money to rival the super PACs through countless small donors from every part of the country, word was spreading through social media and he was rapidly climbing in the polls, running neck and neck with Clinton.
But Bernie didn't start this.  He wasn't just some overnight success.  Bernie tapped into something that had been bubbling for years since the financial crash.  Perhaps we first glimpsed it in 2011, when tens of thousands of students and teachers and workers occupied the capitol building in Madison, Wisconsin to protest Governor Walker, the first glimmer that the anti-austerity protests sweeping Europe in the aftermath of the financial meltdown might also have life here in the United States.  Later that year it exploded into the Occupy Wall Street protests that rocked nearly every major city in the nation and completely shifted the political debate.  Although the Occupy encampments dissolved, the huge shift in U.S. politics on the issue of economic inequality translated into real policy gains, most notably the dazzling string of victories raising the minimum wage in cities and states, at a scale that would have been unthinkable if not laughable just a couple years ago.  Bill de Blasio being elected mayor of New York, Elizabeth Warren elected Senator from Massachusetts, these were waves in the same political tide.
So although no one inside the DC beltway thought it was possible, Bernie Fucking Sanders actually gave Hillary Fucking Clinton a run for her money she'll never forget.  Yeah, Bernie Sanders, that Jewish democratic socialist congressman from the middle of nowhere.  And Hillary Clinton, whose candidacy seemed so completely inevitable that no serious candidate wanted to run against her.  If you told any DC insider two years ago that Bernie Sanders would win half the states in the country over Clinton, they would have laughed in your face.  And they'll continue to laugh when we tell them that this movement is still burning, that it's only going to continue to grow, that the young and restless are coming for them.  But based on the accuracy of all their predictions lately, the political analysts on TV don't know shit.
The vast majority of voters under the age of 40, in every demographic, in every region of the country, chose Sanders.  Sanders won young people by an even more astronomical margin than Obama did in 2008.  The ideas and values of social democracy won our generation, not some young charismatic candidate or some rebellion against the disaster of the Bush years.  The ideas of universal healthcare and higher education, of reigning in Wall Street and the fossil fuel industry, of guaranteeing a living wage, of making the wealthy pay their fair share, of getting corporate money out of politics.  Regardless of who wins in 2016, the future of American politics, of American history, is our generation.
The change we need won't come on Election Day.  It was never going to.  It will only happen if we organize, at a much deeper level than a campaign for one presidential candidate. 
The change we need will happen when we build organizations with lasting power, from the ground up, in communities across the country.  We need to build grassroots organizations that have the capacity to mass mobilize voters like the Working Families Party in New York, or California Calls in California.  We need a re-energized labor movement pushing bold initiatives like Fight for 15 or the Black Friday strikes at WalMart.  We need Dreamers and Black Lives Matter activists marching in the streets.  We need a better Democratic Party in every county, in every state, that's accountable to us and not to corporate interests.
We need organizations willing to truly challenge corporate power and change the game.  These organizations will look differently in different communities. Just as Bernie's platform and message were honed to perfection over a lifetime of representing folks in rural New England, an organized force to address inequality in the Southwest must put the exploitation of immigrant workers front and center, in the South must confront the legacy of slavery and entrenched racial inequality, in the Midwest must work to rebuild communities devastated by globalization.
Here's what the political revolution looks like for me:  My community stretches up the Central Coast of California, where the agriculture and oil industries once dominated local politics, where developers are salivating over land to grab for cheap and sell for more, where demographic change from immigration has led to racial tension, but also the beginning of a progressive majority.  Here, we're fighting oil and gas companies to stop new drilling and power plants being built in our communities.  We're struggling with the agriculture industry to win better labor conditions for farmworkers and protections from toxic pesticides around our schools.  We're going head to head with real estate developers to keep our communities affordable for the working-class that's lived here for generations.
So what can you do in your own community?
Get involved in a local organization in your city, or start a new one, that will bring together regular working people to demand our local elected officials are accountable to us, not big corporations.
Organize your coworkers to start a union and together have real bargaining power to demand better treatment, better wages and benefits, and a voice in the workplace.
Organize the tenants in your apartment building to stop rent increases and evictions and force your landlord to repair the rundown building.
Join other progressives to take charge of your county's Democratic central committee and make sure your local party pushes for candidates willing to take on corporate interests to stand up for our people and our planet.
Run for your city council or support a candidate who will fight landlords and developers for affordable housing and tenants' rights, raise the minimum wage and pass laws raising standards for local workers, stop companies from building polluting projects or extracting fossil fuels in your community, shift the city's budget from police to community services promoting health and education, and cap donations to local political campaigns to keep out big corporate money.
The political revolution in my community won't look the same as the political revolution in yours.  But wherever you are, whatever you do, bring people together into something that will last, challenge the people holding all the money who think they hold all the power, and win real victories that matter to real people.
You won't have to do it alone.  There are countless people just like you who believe in a better world.  You just have to find them.  Luckily, you might already know a few.
Maybe it's the #FightFor16 – the 16 weeks of paid time off from work to care for a newborn child that DC's city council is considering offering to its residents.
While mandatory paid maternity (and often paternity) leave is nearly universal across the globe and broadly popular with policy experts and the public, it's had difficulty gaining traction in Congress. But by learning from the lessons of the Fight For 15 movement that has increased the minimum wage in cities across the US, advocates could soon find this policy sweeping the country like wildfire, with DC as the first spark.
Why a Popular Policy Goes Nowhere in Congress
Much like paid family leave, the public overwhelmingly supports raising the minimum wage, which has absolutely no effect on whether a congressional bill will be signed into law. Momentum for a higher minimum wage is being fueld by the combination of a political landscape dominated by a national debate over economic inequality and an economic landscape where a wageless economic "recovery" has failed to raise average workers' incomes. Support for raising the wage is shared broadly across race, age, income, gender and even political party divides because for most people it's a simple moral issue: no one who works full-time should live in poverty. Yet while few people support a low minimum wage, lobbying powers like the Chamber of Commerce and National Restaurant Association have managed to grind the issue to a halt in Congress. Corporate interests with deep pockets are able to hold Republican lawmakers tightly in line with the business agenda while also maintaining a firm grip on Democrats in swing districts seeking big money donors for tough reelection battles. In the gridlocked era where virtually zero meaningful legislation has been signed into law since the Tea Party wave of 2010, something like the minimum wage is dead on arrival, no matter how much popularity it has with the public.
Paid family leave has similar broad support, including a majority of Republicans—who would be against parents being allowed to spend time with their newborn children? Its growing popularity is tied to rising concerns about American work-life balance as the average workweek reaches 47 hours and American women's presence in the workplace has stalled while continuing to rise in other countries. Major companies like Netflix have gained recent national attention and praise for adopting paid family leave for their workers (although they exclude their low-wage workers who need it most, showing why we can't rely on the benevolence of our corporation-people-friends).  It's become a major campaign issue in the 2016 presidential election, playing a prominent role in the first Democratic debate and even getting lip service from Marco Rubio. Yet despite being one of the most popular kids at the public policy party, family leave faces the same impossible odds in Congress as the minimum wage.
Why the Fight for 15 Movement is Working Anyway
Despite a congress made dysfunctional by GOP obstruction and corporate money, the national movement to raise the minimum wage went in two years from impossible to unstoppable. When fast food workers first began striking in 2013, demanding $15/hour wages, serious journalists and political pundits inside the beltway dismissed the cause as laughable. But the labor and social justice organizers working to lay the groundwork of the FightFor15 movement knew what they were doing. The strategy had been tested already with a push for a modest $10 minimum wage ballot initiative in San Jose delivering a win in 2012. The first $15/hour minimum wage victory came in 2013 with a massive and expensive battle in the tiny town of Seatac, WA, whose economy is anchored by the Seattle-Tacoma international airport. Seatac was the perfect place to prove that 15 was possible. Meanwhile nearby, the $15 minimum wage debate had landed in the center of the Seattle mayoral race and after the election the city council negotiated an agreement with business interests to pass an increase, bringing national attention as the first major city to pass a $15 minimum wage.
Wage increases continued to sweep the left-leaning West Coast, especially the many cities of the San Francisco Bay Area. Moderate minimum wage hikes were put on the ballot across the country in the 2014 election, passing in four rural red states. When the Los Angeles City Council reached an agreement this year to pass a $15 wage in the second largest city in the US, raising up a low-wage workforce many times the size of Seattle or San Francisco, there was no denying that $15 had gone from pipe dream to national benchmark.
The strategy was a tectonic shift for the labor movement. Traditionally unions have invested massive resources into electing Democrats to Washington, DC and trying to push them to take a pro-labor stance on federal legislation, a strategy which has had little success on key issues like opposing trade agreements and removing barriers to workers unionizing. Yet over the past few years, organized labor has experimented with investing heavily in local grassroots organizing, including fast food and retail workers who face long odds of forming unions under current laws. They've pushed full steam ahead with minimum wage campaigns, often using ballot initiatives to bypass elected officials influenced by corporate donors and ride strong support among regular people to victory.
Fight for 15's strategic brilliance is based on a few key concepts perfectly tailored to the political environment of the 2010's:
Going Hard: Winning these battles requires maximizing the one asset we have– people power. By staking out a position like $15/hour strong enough to actually excite and mobilize regular people (even if the conventional wisdom of political elites said it was impossible) Fight for 15 built an unstoppable movement from the ground up.
Going Local: The farther away from regular people the decisionmaking process gets, the less power everyday working people have and the more power corporate lobbyists have. Pushing for citywide or sometimes statewide minimum wage hikes built grassroots momentum and kept the movement from being bogged down in Washington DC.
Going Simple: Of the many policy ideas to address economic inequality, the minimum wage is one of the simplest, which paints the choice for voters in clear moral terms. The more this battle is fought out in broad daylight rather than in backroom negotiations over the wonky details of obscure policy, the more it draws a clear divide between corporate lobbyists and regular people.
Why Paid Family Leave is Next
The DC proposal for paid family leave picks up on all of these strategic elements. It's the first time paid family leave has ever been done at a city level. It's also far bolder of a proposal than any state has adopted, with no state offering more than 8 weeks or coming close to fully paying workers' normal income during that time. (Here in California you can get up to 6 weeks at 55% of your normal wages by tapping into your state disability benefits). The DC plan is 16 weeks fully paid leave for workers who earn up to $52k a year, with half pay above that, and includes adoption and LGBT families. And while it's a little more complex than a minimum wage increase, the overall concept is a simple one that makes obvious sense to the average voter.
While a majority of American workers earn above $15 an hour, only 11% of Americans have paid family leave.  Paid family leave makes the biggest difference in the lives of working-class women, but it also helps bring in the solidarity of professional-class women who know how precarious their own economic status can be and how awful family care policy is in the US. And it taps into a growing number of men, especially young men who came of age in a time of shifting gender roles, and genuinely want to be present in their children's lives but are being held back by Stone Age workplace policies and cultures that don't accommodate paternal leave. In fact, men doubled their share of taking family leave after California adopted paid family leave in 2004.
A good campaign can be led by the people who are most directly affected, brings in new people to the movement and energizes those who are already part of it, makes tangible lasting change in people's lives, exposes the bad guys for how shitty they truly are, and ultimately shifts the balance of power. That's what Fight for 15 has done and that's what paid family leave has the potential to do too.
It's part of something bigger
What's happening right now is not just a series of campaigns to raise the minimum wage. It's the revival of a labor movement that engages the vast majority of Americans who aren't union members. It's collective bargaining at a mass scale of not just one company's employees, but the population of entire regional economies like the San Francisco Bay Area and Los Angeles. It's not just minimum wage increases that are being won by this strategy. Many of the ballot initiatives and ordinances have also included paid sick days and wage theft enforcement. San Francisco has even begun to lay out the right to a predictable, sane, work schedule.
In the 21st century, grassroots local movements are not just going to lead the way on increasing the minimum wage. They're going to push cities and counties and states to pass stronger enforcement of existing wage laws, enact paid sick days, paid family leave, reasonable hours and scheduling, health and safety standards, and perhaps even equality for the most disenfranchised workers excluded from many labor laws like domestic workers and farmworkers.
Movements like Fight for 15 that raise standards for all workers from the bottom up are reminding us why we ever had a labor movement in the first place. They're reminding us why fighting for the dignity of working people matters. They're reminding us that when it comes to the national debate on economic inequality, workers outnumber and outvote bosses. They're reminding us that when we organize, we win.